International Christmas Hamper Gifts
Delivering to loved ones far away doesn't pose a problem with experienced hamper companies such as Clearwater Hampers. An extensive range of quality products have been carefully assembled. Hamper gifts to match those special occasions throughout the year such as a birthday, Christmas and anniversary. International hampers, gifts and gift baskets are perfectly presented and many can be delivered worldwide. For a mouthwatering sweet and savoury option there is the Luxury Alcohol Free Hamper basket. Contents include an assortment of soft drinks,smoked salmon dip, tomato and basil crisps. along with green olives, Belgian chocolate thins, dark chocolate ginger biscuits, pecan and maple cookies and sesame peanuts.
View More Hampers for Overseas Delivery >>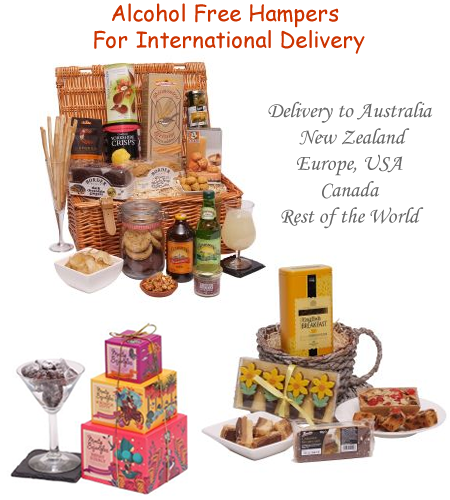 Truffle Tower & Chocolate Gift Tray
Discover an indulgent collection of hampers without alcohol filled with delicious sweet treats for all to enjoy. Finding a gift for a chocolate lover is going to be easy. There's a variety of sweet treats such as a box of truffle chocolates, the Truffle Tower and Chocolate Indulgence gift tray. The ultimate gifting choice with all things chocolatey such as Guylian assorted tasting selection, chocolate hazelnut, orange and cappuccino thins and peppermint sticks. Tantalise the taste buds with Monty Bojangles cocoa dusted bite sized squares of smooth dark chocolate filled with raspberry filling and nutty toasted pieces.
Alcohol Free Gifts Biscuits & Cakes.
Fortnum & Mason The Tea Connoisseur Hamper
Fortnum & Mason
Price: £375.00
Fortnum & Mason The Champagne Afternoon Tea Hamper
Fortnum & Mason
Price: £150.00
John Lewis Elegant Afternoon Tea Hamper
John Lewis
Price: £100.00
Tea Gift Hamper for Her - Happiness Is Tea and Cake Gift Ideal Gift for Tea Lover With Bespoke Gift Mug and Alice Scott Tin - Biscuits Tin Gift
Amazon
Price: £36.95
Tea & Chocolate Hamper ----- Marshmallows, Tea & Biscuits
Amazon
Price: £34.99
Traditional Tea and Biscuits Gift Hamper in Luxury Wicker Basket - Gift Ideas for Birthday, Congratulations and Corporate presents
Amazon
Price: £32.95
Tea & Treats For Her
A great idea for Mother's Day, Valentines Day or any other event where an alcohol free hamper will be warmly received. Buying a hamper for overseas delivery without the inclusion of alcoholic beverages is made easy. Enjoy the special selection of non- alcoholic hampers where there will be more room for chocolate, shortbread, pate, cheese, sweets, cakes, chutneys and jams.
View Hampers for Worldwide Delivery
The Tea & Treats hamper gift for her is a delightful open basket beautifully packaged in a cup and saucer planter. Contents include chocolates, cherry and almond fruit cake & caramel shortcake fudge topped with chocolate. Also included in English breakfast tea and a pack of 4 spring daffodil flower shaped milk and dark chocolates. White chocolate decoration finishes the look anpresented in a gift box finished with ribbon.