Here at UK Hampers, we have put together a range of classic and luxury hampers for all occasions and every budget. Enjoy browsing food gifts and presents for family, friends and business colleagues. Find flowers and chocolates for Mum and Dad's favourite beer along with a wide selection of premium ales, whisky, champagne, cider and gin gifts. Alternatively, choose from a range of alcohol-free gifts, tea hampers and letterbox gifts for under £20.
View the Latest Range Of Hampers for EU Delivery
View Hampers for Worldwide Delivery
---
Halloween Hampers & Trick or Treat Sweets
Discover this year's devilishly delicious Halloween treats, luxury hampers, scarily good confectionery, and chocolate.  Fortnum & Mason Halloween-themed treats included iced frogs legs, pumpkin-spiced caramel popcorn and witches chocolate fingernails!
Celebrate the witching hour with boozy trick-or-treat truffles and witches brew hot chocolate or Hotel Chocolat Halloween cocktails with a shot of liquor! There are plenty of fun, spooky gifts for kids, too with skeleton biscuits, body parts, sweet jars and chocolate witches.
---
Thoughtful gifts and hampers for the elderly include a selection of special treats that are sure to please.  When it comes to present buying with a personal touch, then creating your own hamper is a great idea too. Seasonal and themed hampers are also fun and popular at Christmas, Easter, Valentine's Day, and Halloween. Below are some of our favourite collections for you to explore.
---
Create your own hamper or choose a particular range to suit your taste. There are hampers for seniors, organic, savoury, gluten and alcohol-free hampers. You will also find corporate gifts, sharing hampers and letterbox gifts under £50, £30 and £20.
Letterbox Hampers & Postal Gifts
---
Hampers for the Elderly & Gift ideas for Seniors
Find gift hamper ideas and presents for grandparents, elderly relatives and senior friends. From tea and cake baskets, non-alcoholic hampers, garden gifts and fun retro sweets.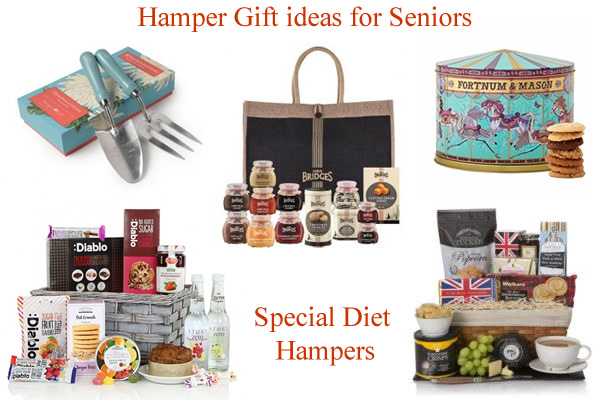 Diabetic Gluten Free & Vegan Hampers
Shop our speciality diet hampers of gluten-free, vegan and vegetarian hampers. Enjoy browsing the delicious sugar-free gifts, savoury snacks and organic treats.
---
Speciality Diet Hampers & Gifts for Seniors
---
Beer and Ale Hampers
There is a fantastic range of real ale gifts and beer gifts to suit many budgets. For under £20, you will find personalised Craft beer packs and tankards with beer sets.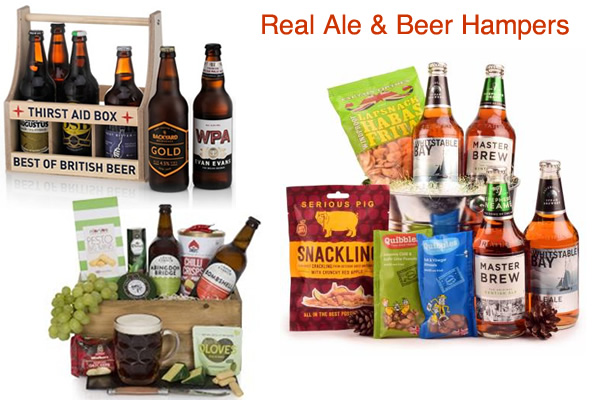 For something extra special, there are beer crates packed with the best of British beer. Classic robust, and hoppy ales combined with savoury snacks make an ideal Father's Day or Christmas Gift.
---
Beer & Ale Hampers
---
Pet Hampers
Our much-loved pets are catered for, too with a fun range of pet hampers for dogs and cats. Small and large dogs, puppies, kittens and cats can look forward to treats aplenty!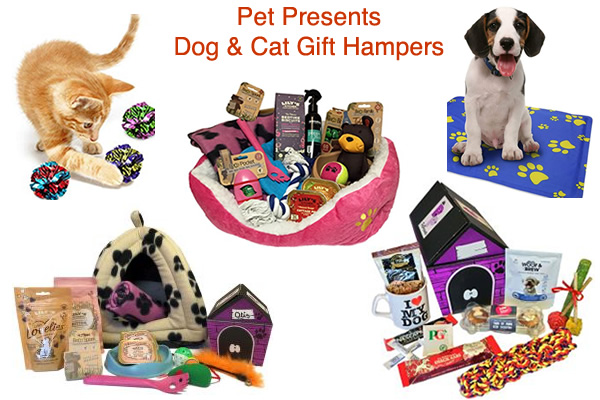 Shop all pet hampers to find gift baskets for your pet full of toys and treats they will love. From chews, squeaky toys, and fleece blankets to personalised feeding bowls and gourmet dinners! You can view our special collection of wildlife and bird hamper gifts here.
---
Pet Hampers
---
Hampers Under £50
Working to a budget has been made easy with a great selection of hampers under £50. Browse our edit of fine food and drink gifts for all occasions such as Mother's Day, Birthday, Easter and Valentine's Day.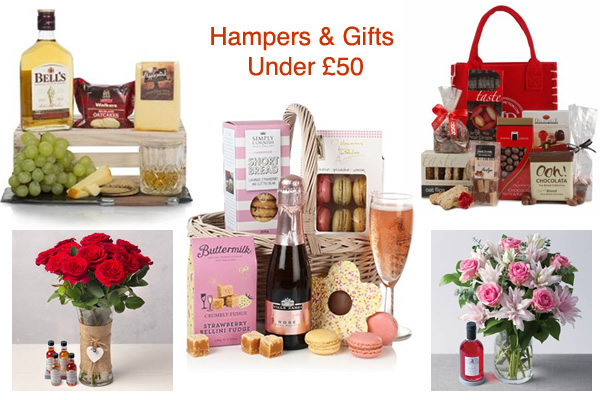 Discover low-price speciality diet hampers with gluten and wheat-free jute bags and vegan and diabetic hampers. Prosecco gifts are always welcome, and the Seniors Choice hamper is a thoughtful gift for parents and grandparents. They are filled with wholesome, hearty food and pantry favourites.
---
Hamper Gifts under £50
---
Chocolate Gift Hampers
An indulgent range of chocolate hampers awaits full of all your favourite things. Find delicious chocolate gift boxes, hamper baskets and confectionery gifts for sweet-toothed family & friends.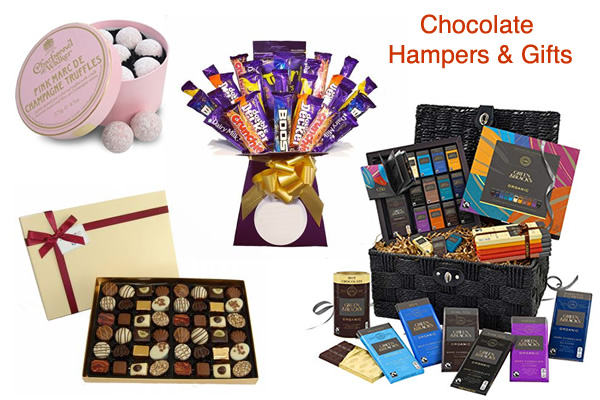 There are novelty chocolate bouquets, chocs and wine sets, Ferrero choc tree and gin truffles. Plus, tempting luxury handmade white milk and dark chocolate selection boxes. You can shop for hampers under £30, and gift hampers under £20 are ideal when gifting for birthdays.
---
Chocolate Gifts
---
Create Your Own Hamper
Start building your own bespoke hamper at online hamper stores such as Fortnum & Mason and Clearwater Hampers. Create your own hamper with a helpful step-by-step guide on how to build your hamper.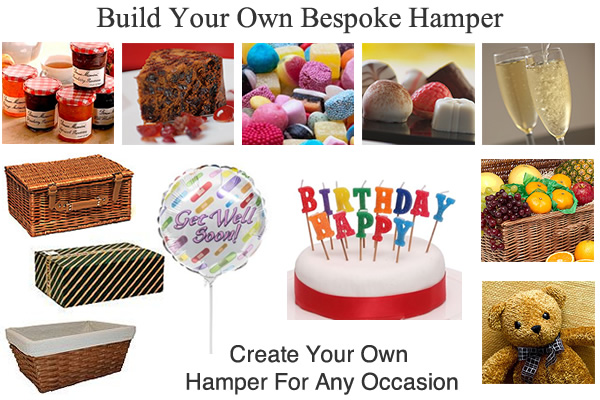 Choose from a wide assortment of gourmet food, alcoholic and non-alcoholic drinks, organic products and savoury nibbles. Also, sweet hamper treats featuring chocolates, biscuits and cakes. Build your own Retro sweet box at Funky Hampers for a quirky-filled customised gift.
---
Create Your Own
---
Worldwide Delivery
Discover gift ideas and hampers for export with international delivery suitable for the EU and worldwide. Choose from a range of filled wicker baskets, picnic hampers and food gift boxes. Sweet and savoury delights, wine, cheese and pate, greetings cakes, chocolate truffles, fruit and flowers.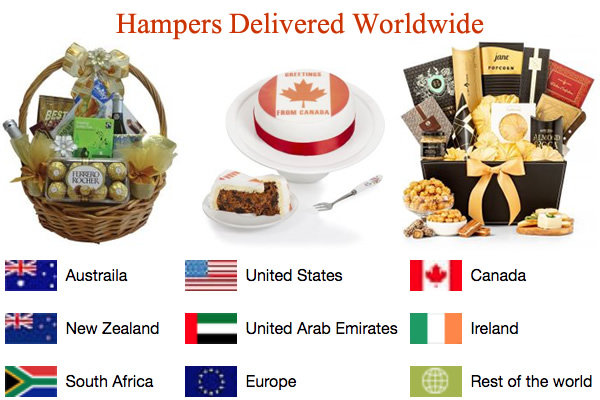 Find hamper delivery to Australia, New Zealand, South Africa, USA, United Arab Emirates, Europe, Canada, Ireland and Rest of the World.
---
Hampers Delivered Worldwide
---