Chocolate and Beer Hampers Under £50
Spoil someone you love this Christmas with their favourite tasting beer and a selection of nibbles. Beautifully presented beer hampers for under £50 include a range of tantalising savoury, spicy or sweet treats waiting to be washed down with thirst-quenching lager, cider or ale.
Beer Hampers under £50
View Collection >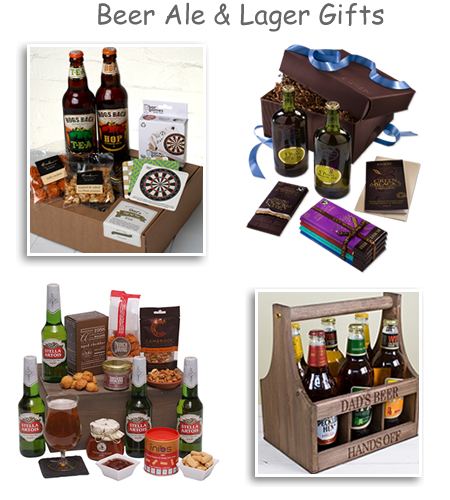 For a much-appreciated gift for family and friends who prefers a refined food and drink gift, there's the Green & Blacks Chocolate Bars and Beer gift box. Contents include a collection of signature Fairtrade chocolate bars and 2 bottles of British organic beer; 1 St Peter's Organic Ale and 1 St Peter's Organic Bitter.

Beer & Lager Gifts under £50
Pop Up Pub Beer Gift Box
The Real Ale "Pop up Pub" gift box makes a fun and unique present and beer hamper for Birthdays, Father's Day and the festive season. No need to go down to the local pub so why not surprise them instead. Great tasting treats include two best-selling ales, chilli crackers and roasted salted peanuts.
Some indoor amusement adds to the fun. There is a set of bar games beer mats with 30 coasters each having a different pub game, quiz or puzzle for hours of entertainment. Perfectly presented in a kraft window box. Alcohol contents include one traditional English best bitter and the hogs back brewery's flagship ale the Hop Garden Gold.
Beers & Bites Gift Hamper
This beer gift is one for the shortlists for the beer lover in your life. A little taste of everything including four bottles of Stella Artois, a selection of flavoursome nibbles, pineapple and mango salsa, smoked salmon dip and sesame peanuts.
Beer Lager Cider & Whisky Hampers >
Craft Ale Gifts for Christmas
Beer hampers and lager gifts are great ideas for Christmas and any other occasion throughout the year. From tasty Craft beer, refreshing lagers or traditional ales to enjoy around a warm cosy fire in winter. There's also a range of biscuits, nuts and chutneys. You'll find a variety of great value beer, lager and ale hamper types that include Guinness, Budweiser, IPA, Old Speckled Hen, Green King and more.