Mother's Day Gift Idea
You don't have to wait until Mother's Day to make a surprise gift. Treating someone special can happen at anytime so why not celebrate the arrival of spring over a nice cup of tea and slice of cake. Unique hampers come in a wide choice of themes with a variety of contents from organic mixtures, Fairtrade produce and delectable sweet and savoury delights. But a hamper packed with delicious cookies, biscuits and luxury cakes is an irresistible combination.
view range of cookies & muffin hampers…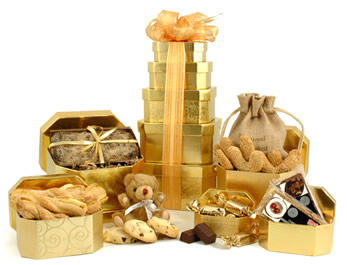 5 Ready Filled Gift Boxes
This delicious cake hamper from Hamper Gifts is as exciting as it looks. Full marks goes on presentation with five gorgeous stacked gold boxes elegantly wrapped with luxury ribbon. These reusable octagonal gift boxes are just waiting to reveal their contents.
The scrumptious cookies and cake tower is a great gift for mum, grandma and for the rest of the family who are sure to tuck in.
you may also like…
Luxury Cream Tea Gift Hamper
Clearwater Hampers
Price: £39.00
Tea & Bubbles
Virginia Hayward
Price: £37.50
Tea & Treats For Mum Hamper
Clearwater Hampers
Price: £30.00
Cakes & Biscuits Gift
Fabulously rich family size fruit cake, white chocolate and raspberry cookies, sweet and sophisticated dark chocolate pieces and hand made sugar cinnamon twist biscuits will make any moment divine. The lucky recipient will be in cake heaven with this luxury food gift. They will delight in opening each box to find chocolate treats, biscuits and a pile of cookies and cakes.
Gift tower contents:
White Chocolate & Raspberry Cookies 100g
Large Rich Luxury Fruit Cake 500g
Hand Made Honey and Sesame Cookies 100g
Cherry & Coconut Flapjack 120g
Moist Sultana Flapjack 120g
Kathy Chocolaterie Belgian Dark Cappuccino Pieces 100g
Hand Made Sugar Cinnamon Twist Biscuits 100g
FREE Hamper Gifts Baby Teddy Bear
Personalised Gift Message