Pet Hampers Cat and Dog Gift Sets
Dog and Cat Pet Presents
Don't forget your four-legged friends on special occasions such as Easter and Christmas. These irresistible pet hampers are filled with treats and toys they will love. The fun will be in the giving as you see them investigate each item and tuck into the treats!
It's not only your own cat or dog that will enjoy a treat hamper. Friends and family pets can be treated at special times throughout the year. Why not include a pet present set filled with goodies under the tree this Christmas? Better still, create your own hamper and fill it with tasty dog puppy, cat food, and little playthings.
Dog and Cat Gift Hampers
Latest Pet Hampers
Discover a superb range of pet hampers at Clearwater Hampers including a cat house, grooming sets, puppy toys and more. A selection of pet gift baskets can be found between £20 to £50 including deluxe collections. It's not just at Christmas that your feline and canine companion can look forward to a surprise. Why not celebrate your dogs birthday with a special cake that comes with brown icing for you to personalise with their name.
Toy Hampers for Small and Large Dogs
There is always room for more toys to keep your dog entertained for hours. Medium to large dogs is catered for with toys such as large kongs, a double-knotted ragger, rope sticks, squeaky plastic toys and frisbees. Little dogs are not to be left out with smaller-sized toys, tennis balls, and a selection of doggy chews to aid in clean and healthy teeth. Toy hampers for dogs are sure to get his or her tail wagging and are perfect for preventing boredom.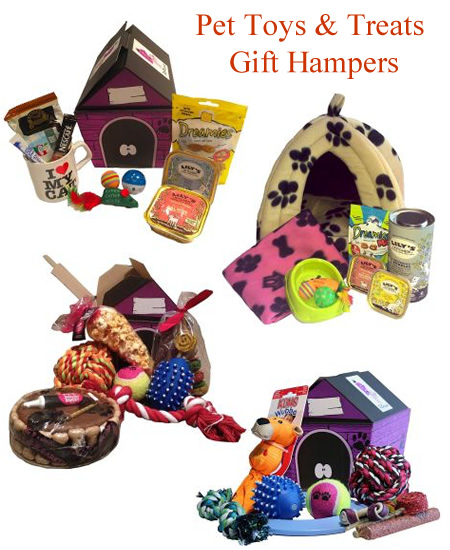 Puppy Gifts and Deluxe Dog Hamper Gifts
Cute puppy hampers are perfectly presented in a Pet Presents storage box. contents include a fleece blanket, cheese-flavoured training treats and shampoo cleaning spray. For the ultimate hamper for dogs, there's the Deluxe Treat hamper. This is filled with a large variety of toys and food treats for any size bread of dog. Hollings venison sausages, meat strips, liver pieces, Lily's Kitchen 'Rise and Shine' biscuits, "Bedtime' biscuits, training treats and snack bars.
Deluxe Cat House Hampers
Spoil your much-loved cat or kitten with a deluxe cat treat hamper. Filled with a variety of natural cat dinners and dried cat food in chicken and fish, a food and water bowl, plastic rolling toys and a fabric catnip mouse toy. Other pet hampers for kitties include a blue or pink fleece paw print blanket, a packet of Dreamies and a pyramid-style cat house. There's also a hamper with a mug and biscuits, so you can enjoy a treat too while the kitty plays with his or her favourite toys. The double-sided mug holds tea, coffee, sugar sachets, and two packets of biscuits (for humans).
Curated by Debra Binns
Debra Binns is the co-founder of www.uk-hampers.com. Debra has been creating and sharing relevant content about the home, gifts and fashion since 2009, helping customers navigate and select from the vast range of homeware, gifts and fashion available from high street and online stores.