British Craft Beer Hampers
For Dads that enjoy a glass of beer at home Craft beer hampers for Father's Day is sure to go down well. Craft beer is typically produced by small independent breweries so expect only the best quality and flavours. Carefully selected Craft beer packs in varying styles and strength are made using traditional Artisan brewing methods. Father's Day craft beer hampers range from modest three bottles in a box to an impressive crate of London Craft beer.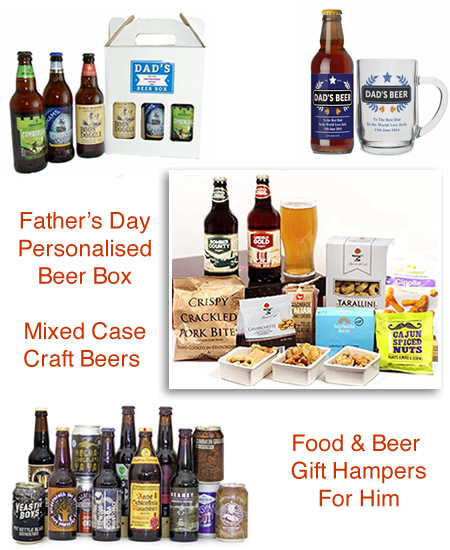 Beer Hampers for Father's day
Beer lovers can enjoy the finest selection of real ales and premium beers handmade in Britain. Anyone keen to explore new tastes or try something different will soon discover fresh, exciting and delicious beer. A perfect beer and ale gift idea for Father's Day.
Craft Beer and Food Hamper
Complement the unique tasting experience with some savoury treats. What better way to enjoy craft beers than with mouthwatering snacks. Choose Dad's favourites from a wide range of sweet and savoury delights. Popular beer hampers include chilli crackers, roasted salted peanuts, green olives with basil and garlic, pesto breadsticks and mature cheese.
Not only is there Craft beer and savoury treats hampers there's something to satisfy a sweet tooth as well. We love the box of delicious handmade craft beer barrel chocolates. The chocolate barrels are handmade with milk chocolate and are filled with a special blend of craft beer, mixed with smooth caramel.
Beer Hamper under £20
The wonderful world of modern craft beer brings an exciting mix of flavours ranging from the contemporary to the more traditional. You'll soon discover expertly crafted brews presented in 330ml bottles or craft cans. Find crafted real ale gift set boxes under £20, beer hampers under £30 and mixed beer cases less than £50.
To make a Father's Day gift extra special a personalised craft beer box is a great idea. For a fun twist to gifting on Father's day take a look at the real ale Pop up Pub box. Perfect gift for a pub goer with two Craft real ales, savoury nibbles, 30 bar games and beer mats.