Mini Chocolate Eggs For Easter Egg Hunts
There's plenty of fun to be found this Easter with sweet treats galore and mini chocolate Easter eggs ideal for the Easter egg hunt. A fine selection of everyone's favourite along with luxury chocolate selections, gifts and ready filled hampers. Large bags of mini chocolate eggs wrapped in colourfully patterned foils can be gift wrapped to give as presents or bought in bulk in readiness for the big Easter hunt that children just love.
Easter Gifts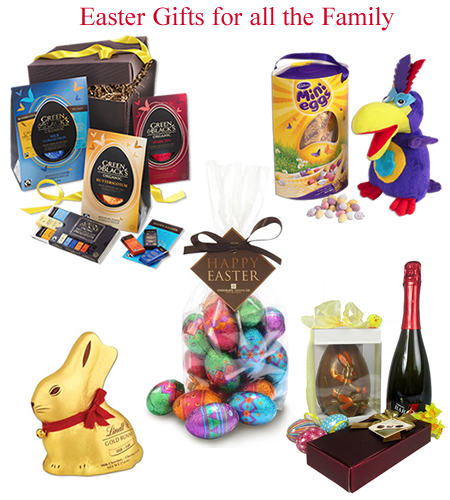 Organic Chocolate Tasting Collection
Send that someone special an indulgent combination from Green & Blacks organic range. The Easter Tasting collection includes a thick shelled chocolate egg, 24 miniature bars of milk, dark and white chocolate plus a delicious bottle of Bonterra organic Merlot wine. A wonderful present that comes with tasting notes and recipe ideas. Fairtrade chocolate gift sets and hampers are beautifully wrapped, displayed in a stylish gift box with hand-tied ribbon and gift card. Experience the distinctive taste for your self and make someone else happy too with such a memorable present.
Make Your Own Easter Hamper
For the ultimate Easter gift perfect for a family to share why not create your own hamper. Knowing your family and friends taste means you get to give their best-loved sweets and treats. Find a suitable gift box, empty wicker basket or lidded hamper with packaging and have fun filling it to the brim. It can be anything from a whole egg and mini Easter eggs to bars of chocolate, bottles of wine, soft bunny toys and more. Knowing who you are buying for makes it all the more personal. Make your own selection box from Cadbury or try a usual gift from Funky Hampers for an easy no fuss solution for gifting this Easter.
FAIRTRADE ORGANIC EASTER EGGS AND CHOCOLATE