Why a Cheese Hamper is a Perfect Father's Day GIFT
If you're racking your brain for an extraordinary Father's Day gift, look no further. A Father's Day Cheese Hamper is an exquisite way to show your love and appreciation. It's more than a gift – it's a journey of taste, a culinary adventure that your dad will savour. Each hamper brims with unique cheeses that tell its own delicious story. Imagine your dad's joy as he discovers the world of flavours hidden within!
Father's Day Cheese Hampers
Real Ale & Cheese Hamper for Dad Real Ale Gift Hamper Hampers.com
by Hampers.com
hampers.com
Cheese Hamper for Dad under £50
Our fathers deserve a gift that echoes our love and appreciation. With a gourmet cheese hamper, you're choosing something unique, personalised, and delicious. Imagine your father's delight as he unearths a variety of cheeses, each bringing its own burst of flavour. Whether he's a fan of the classic cheddar or the exotic blue cheese, you can find a hamper that suits his taste.
Decoding Dad's Palate: What's in a Cheese Hamper?
A cheese hamper holds more than just cheese. It's an assortment of selected cheeses and their perfect partners – wine, crackers, and more. From the creamy brie to the tangy stilton, every hamper offers a variety that delights.
Wine and cheese are old friends. So, it's no surprise that a cheese hamper often includes a bottle of wine that matches the cheese. Add in a pack of crunchy crackers, and you have a perfect trio.
And the hamper doesn't stop there. Some also include tasty extras like charcuterie, fruits, or even chocolates. This Father's Day, let your dad explore the wonderful world of cheese and its companions with a gourmet cheese hamper.
The Cheese and Nibbles Trio Hamper
Funky Hampers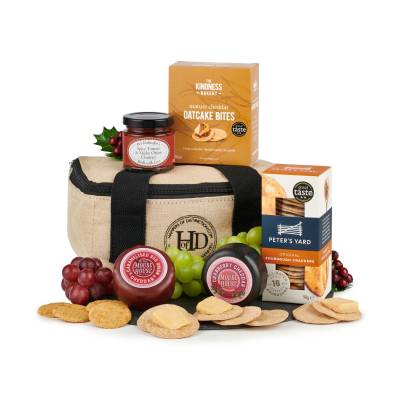 The Luxury Cheese and Nibbles Cool Bag
Funky Hampers
Cheese and Nibbles Gift Cheese Hampers UK Hampers.com
hampers.com
Edinburgh Preserves Chutneys & Relishes For Cheese and Meats, 700g
John Lewis & Partners
Edinburgh Preserves Condiments for Cheese, 290g
John Lewis & Partners
Cottage Delight Cheese Board Trio
John Lewis & Partners
What Type of Cheese Hampers for Father's Day
Choosing a cheese hamper can be as enjoyable as tasting one. With so many options out there, we've narrowed down a list of the top 5 cheese hampers sure to make your dad's day extra cheesy.
1. The Classic Connoisseur: Perfect for the dad who sticks to his favourites. This hamper includes the timeless favourites: Cheddar, Stilton, and Brie, paired with an assortment of biscuits and a bottle of red wine.
2. The Adventurous Aficionado: If your dad loves trying new flavours, this hamper is a must. It's packed with unique cheeses from around the globe, from French Roquefort to Spanish Manchego, and an array of unusual accompaniments.
3. The Luxe Lover: This hamper screams luxury. Filled with high-end artisan cheeses, gourmet crackers, and a bottle of premium wine, it's designed for dads who appreciate the finer things in life.
4. The Health Conscious: Cheese doesn't have to be a guilty pleasure. This hamper features a range of low-fat, high-protein cheeses along with whole-grain crackers and organic accompaniments.
5. The Craft Beer Buddy: Who said cheese and wine are the only good pair? This hamper brings together the finest craft beers with cheeses that complement their flavour profiles.
Each hamper has its charm, offering a unique cheese experience for your dad. Select the one that fits your dad's personality and watch him enjoy a memorable Father's Day.
Cheese and Wine Hampers for Father's Day
Where to find Great Cheese Hampers in the UK
Choosing the right cheese hamper can feel like finding a needle in a haystack with the number of options out there. Don't worry; we've got you covered. Here are some top-notch British establishments offering fabulous cheese hampers.
Butlers Farmhouse Cheeses
Your search for a wholesome cheese gift ends here. With offerings like the Goat's Cheese & Chutney Gift Set and Cheese Lovers Feast Gift Bag, Butlers Farmhouse Cheeses has set the bar high. They also provide a variety of accompaniments & side dishes such as sourdough crackers and flatbreads, Garlic Olives, and Cheeseboard Chutney. Plus, their Letterbox cheese gifts add a touch of convenience to your cheese gifting game.
The British Hamper Company
Looking to splurge on your dad? The British Hamper Company boasts a selection of cheese and picnic hampers. From the Connoisseur's Wine and Cheese Basket to the Port and Stilton Hamper, they're all about the finest and most indulgent choices.
Prestige Hamper
If you're keen on some bubbly with your cheese, Prestige Hampers has you sorted. Their Fizz and Fromage and Artisan Cheese & Wine Basket are a hit. Not a wine enthusiast? Try the Cider & Cheese hamper. And if your dad is health-conscious, the Healthy Ploughman is a perfect choice.
Devon Hampers
Want to add a personal touch? Devon Hampers allows you to create your own Father's Day cheese hamper. Choose from award-winning Devonshire cheeses like smooth and creamy brie, delicious traditional cheddar, and aromatic goat's cheese. Pair these with a selection of Chutneys, Biscuits, Crisps, and other accompaniments.
Luxury Cheese Hampers
Fortnum & Mason Hampers
When it comes to upscale gourmet gifts, Fortnum & Mason is an institution. This Father's Day, spoil your dad with one of their magnificent cheese offerings. Their selection is impressive, ranging from the Fortnum's Coronation Stilton Jar and Potted Elegant Welsh Rarebit to the Cheese and Chutney Hamper or a Cave Aged Cheddar Wedge. These delectable cheese delights can be complemented by a Highgrove Organic Spiced Fruit Chutney or a Fig & Fennel Chutney for an extra touch of indulgence. Trust us, a gift from Fortnum & Mason is sure to leave a lasting impression on your dad.
Whether you're looking for a traditional cheese hamper or something a bit more personalised, these vendors have it all. Now, you're all set to pick a hamper that will make this Father's Day a cheesy delight for your dad!
Curated by Debra Binns
Debra Binns is the co-founder of www.uk-hampers.com. Debra has been creating and sharing relevant content about the home, gifts and fashion since 2009, helping customers navigate and select from the vast range of homeware, gifts and fashion available from high street and online stores.