Father's Day Hampers & Gifts
Food & Drink Hamper Baskets for Dad
Buying for Father's Day is easier than ever with today's great selection of special Father's Day hampers. You will find all their favourite treats from ale and lagers packs, beer gifts, port and cheese, whisky, fine wine cheese and pate, truffles and delectable dark chocolate hampers.
Father's Day is on Sunday 18th June 2023
In addition to the traditional food and drink hampers welcome at Christmas, Easter and other celebratory occasions, there are gardening gifts for the avid gardener too. So when is Father's day in 2023? This year it falls on 18th June 2023. We hope you like our selection of Father's Day hampers
Father's Day Hampers & Gift Ideas
Lager  Cider  Whisky & Beer Hampers
Garden Gifts Father's Day Hampers
FATHER'S DAY HAMPER IDEAS
As we eagerly anticipate Father's Day on Sunday, 18th June 2023, the question on many minds is, "What is the perfect gift for Dad?" At the heart of this day is the chance to express our appreciation and gratitude for the dads who've shaped our lives. This year, we propose taking the celebration up a notch with a collection of exquisitely curated hampers designed to delight and surprise. Whether your dad is a garden enthusiast, a coffee connoisseur, a beer lover, or a devotee of fine cheese and wine, there is a hamper that will make his day truly special. So sit back, start browsing, and let's discover together the perfect hamper for this Father's Day.
Garden Gifts For Father's Day
Does your dad fancy himself as a bit of a green thumb? If so, he'll cherish a thoughtful garden-related gift this Father's Day. We're talking sturdy garden gloves, enticing seed and herb collections, engaging garden books, and so much more. Why not go a step further and present these gifts in a bespoke hamper or a ready-filled garden trug? It's a winning move guaranteed to bring a beaming smile to his face. And to make this treat even more enticing, you could sneak in his favourite beverage. Now, wouldn't that be a delightful surprise?
Organic Chocolate Hampers
Looking to leave a unique, sweet impression this Father's Day? Consider a DIY hamper—it's a foolproof ticket to Dad's heart. Fill your hamper with an irresistible selection of dark, white, and milk chocolates. Don't forget to sprinkle in some organic food and drinks, along with a delightful mix of sweet and savoury nibbles. And to make this hamper a complete sensory experience, toss in a few non-food items sure to brighten his day.
Create Your Own Hamper Father's Day Hamper
Why not design and make your own hamper that's as unique as your dad? Start with a robust wicker basket or box that's as impressive as the treasures it will hold. Then, fill it with everything you know your dad loves. This could be anything from his favourite book to his guilty pleasure snack, making your Father's Day gift extra personal and thoughtful.
View Father's Day Beer & Lager Gifts
Father's Day Beer Hampers
Here's a recipe guaranteed to make your dad's day: take a basket and fill it to the brim with a collection of superbly tasty beers and crunchy savoury treats. This hamper, bursting with hoppy goodness, will make Father's Day a celebration to remember. From refreshingly bitter brews and rich malty ales to smooth-drinking lagers and cider gift packs, there's a delicious tipple to suit every dad's palate.
Cheese and Wine Hampers For Father's Day
For the discerning dads out there, consider a gourmet cheese and wine hamper this Father's Day. Picture the delight of pairing artisanal cheeses with exquisite wines—a culinary adventure right in the comfort of home. This carefully crafted hamper could include everything from piquant blue cheeses to creamy Bries, perfectly balanced by a selection of fine wines. Add in some gourmet crackers, a high-quality cheese knife, and a pot of tantalising chutney for an elegant and luxurious gift that's sure to make Father's Day a memorable one.
Coffee Hamper for Father's Day
For dads who appreciate the rich aroma and invigorating taste of premium coffee, a Coffee Connoisseur Hamper will hit the spot this Father's Day. Try a hand-picked a variety of coffee beans from renowned coffee-growing regions around the world. This kind of hamper is a journey of flavours and aromas, perfect for dads who relish starting their day with a quality brew. Paired with a chic coffee mug and a convenient French press, this collection is an absolute treat for coffee enthusiasts. This Father's Day, let dad wake up to the joy of aromatic, delicious coffee.
Tea Hamper for Father's Day
For fathers who savour the tranquillity of a good cup of tea, a Tea Time Hamper makes the perfect Father's Day gift. This hamper encompasses an array of exceptional teas sourced from across the globe, ideal for dads keen to explore an array of soothing flavours. Paired with an elegant teacup and a useful teapot, this selection of brews is a delightful way to show appreciation for tea-loving dads. This Father's Day, provide the gift of relaxation and warmth with our thoughtfully curated Tea Time Hamper.
Whisky Tasting Kit For Father's Day
Here's a toast to dads who enjoy the fine craftsmanship of a premium whisky. This Father's Day, surprise him with a Whisky Tasting Kit, an invitation to embark on a flavour journey through the world of whisky. This Father's Day, raise a glass to dad with our Whisky Tasting Kit.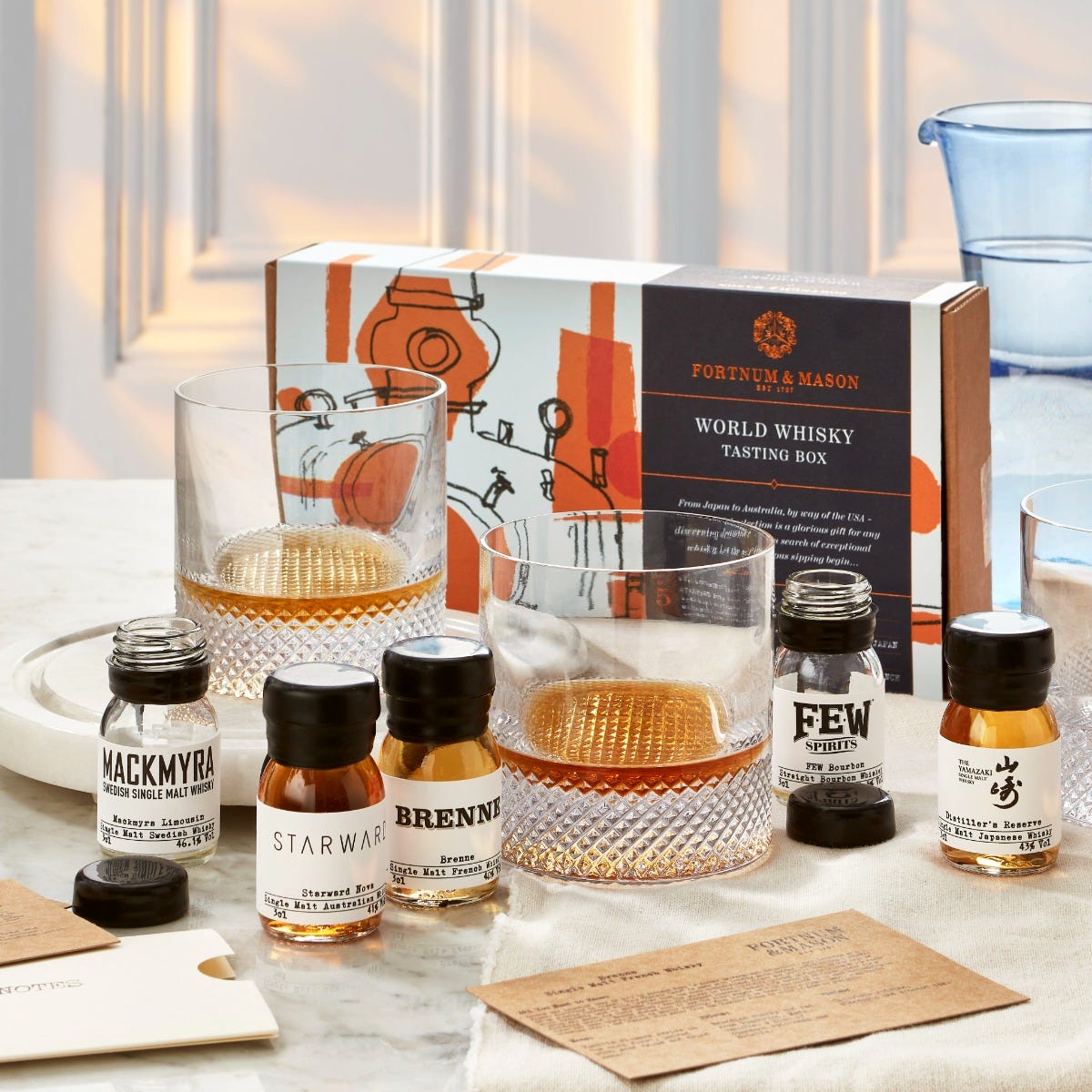 The World Mixed Whisky Tasting Set, Fortnum & Mason
by Fortnum & Mason
Fortnum & Mason
Father's Day 2023
Father's Day 2023 is the perfect opportunity to express your appreciation and love for your dad. With our selection of thoughtfully curated hampers, you'll find a unique gift that perfectly suits his taste, be it gourmet coffee, luxury cheese and wine, refreshing craft beer, or even a whisky tasting experience. Whatever you choose, each hamper is an invitation to delight in flavours, relish unique experiences, and above all, to create lasting memories. This Father's Day, let's celebrate the special bond with a gift that's as unique and cherished as your dad.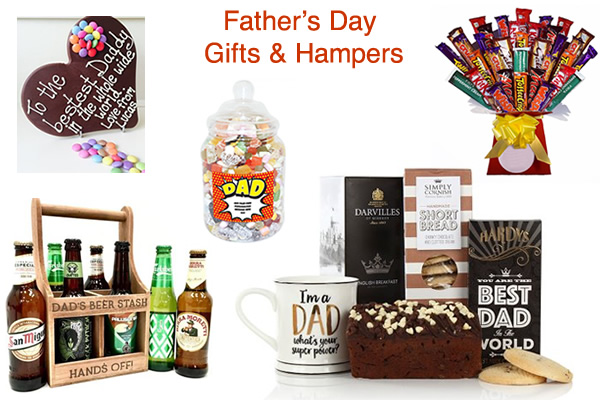 Quirky, unique gifts will make him smile, so try a retro sweet tuck box or a fun milk chocolate toolset! In addition to food and drink hampers, there are garden gifts for Father's Day too. For a sumptuous feast full of delectable delights, there's the Fortnum & Mason Father's Day hamper.
---
Just For Him hampers
Curated by Debra Binns
Debra Binns is the co-founder of www.uk-hampers.com. Debra has been creating and sharing relevant content about the home, gifts and fashion since 2009, helping customers navigate and select from the vast range of homeware, gifts and fashion available from high street and online stores.