Father's Day Hampers & Gifts
Food & Drink Hamper Baskets for Dad
Buying for Father's Day is easier than ever with today's great selection of special Father's Day hampers. You will find all their favourite treats from ale and lagers packs, beer gifts, port and cheese, whisky, fine wine cheese and pate, truffles and delectable dark chocolate hampers.
Father's Day is on Sunday 18th June 2023
In addition to the traditional food and drink hampers welcome at Christmas, Easter and other celebratory occasions there are gardening gifts for the avid gardener too. So when is father's day in 2023? This year it falls on 18th June 2023. We hope you like our selection of Father's Day hampers
Fathers Day Hampers & Gift Ideas
Lager  Cider  Whisky & Beer Hampers
Garden Gifts Father's Day Hampers
Garden Gifts For Father's Day
If dad loves his garden, any thoughtful extra such as garden gloves, seed and herb selections, garden books, and more will be appreciated. Making your own hamper or buying a ready-filled garden trug is sure to please. You can always add their favourite tipple as an extra treat.
Organic Chocolate Hampers
For a unique Father's Day gift, a do-it-your-self hamper guarantees a happy outcome. You can choose from a selection of dark, white and milk chocolate, organic food and drink, delicious sweet and savoury treats, plus non-food items that will brighten his day.
Create Your Own Hamper Fathers Day Hamper
To start making your own hamper, you will need an impressive empty wicker basket or box. You are then ready to go. Your self-made hamper gift for dad can be filled with everything you know he loves, making your Father's Day present all the more thoughtful.
View Father's Day Beer & Lager Gifts
Father's Day Beer Hampers
A ready-filled basket filled with great-tasting beer and savoury nibbles to balance those hoppy flavours will be a winner on Father's Day. With a wide variety of styles, there's something to suit everyone's taste buds. Special collections of refreshing bitters and rich malty ales to smooth drinking lager and cider gift packs are perfect for dad's special day.
Father's Day Hampers
Find the perfect Father's Day hamper with gift ideas to suit everyone. Father's day is celebrated in the UK on Sunday, 18th June 2023. Get ready to surprise dad with a real ale, craft beer, vintage port & fine wine or a non-alcoholic hamper.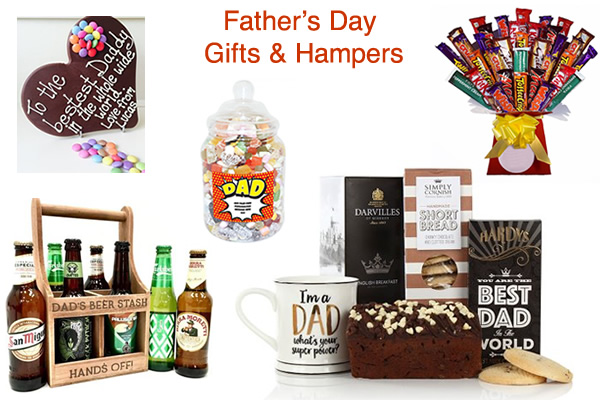 Quirky, unique gifts will make him smile, so try a retro sweet tuck box or a fun milk chocolate toolset! In addition to food and drink hampers, there are garden gifts for Father's Day too. For a sumptuous feast full of delectable delights, there's the Fortnum & Mason Father's Day hamper.
---
Just For Him hampers