Scary Halloween Hampers for 2023
It's that time of year again when we get ready for scarily good treats and sweets. October 31st is when the fun begins with Halloween hamper party packs galore. Big and small gift boxes, Halloween hampers and treat-size bags will keep everyone happy.
Fortnum & Mason Halloween Hampers Spooky Gifts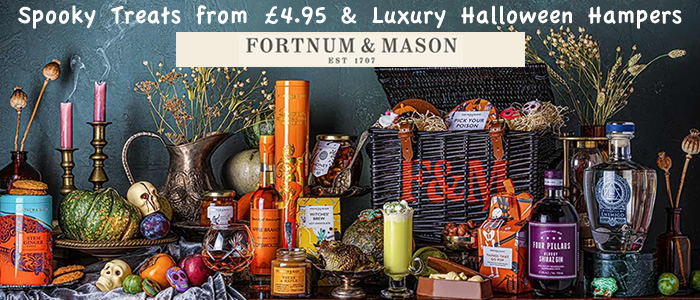 ---
Halloween Hampers & Trick or Treat Gifts
Trick or Treat Chocolate & Retro Sweets
Pick and Mix-tastic Union Jack Gift Box
A Quarter Of A
Mega Chocolate and Sweets Hamper - Delicious Chocolate Bars Presented Well in Magnetic Gift Box | Excellent Birthday Gift with Pick n Mix Sweets
amazon.co.uk
Christmas Retro Sweets Box Over 60 sweets Pick N Mix The Ultimate Sweets Selection Box Sweet Hamper Present - Gift Wrapped & Personalised Message Christmas Sweet & Chocolates Gift
amazon.co.uk
Cadbury Chocolate Gifts For Halloween
A spooky collection of Halloween hampers and goodies awaits at Cadbury Gifts. Here you will find fun-size trick and treat bags, novelty jars packed full with Maynard's fruit gums and the classic creme egg ghoulishly transformed, the Screme eggs now have green goo! A frightful arrival is a spook-tacular box filled with Cadbury chocolate and sweets including the Dracula Maynards novelty jar to devour on 31st October.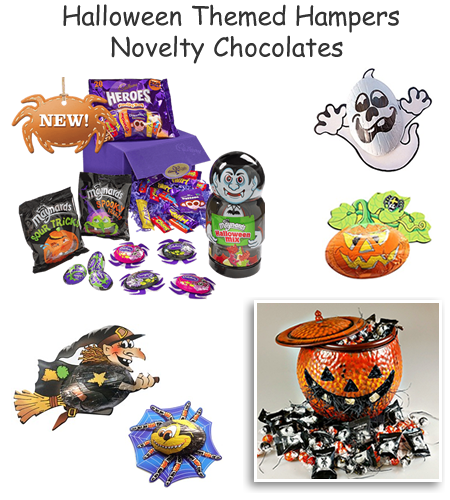 Sweets Hamper for Halloween
The Halloween hamper gift includes 1x 450g Maynards Halloween Mix Dracula Novelty Jar, 1 x 145g Maynards Sour Tricks Bag, 1 x Maynards Spooky Treats 145g Bag, 4 x Crunchy Chocolate Spiders, 3 x Screme Eggs, 1 x Cadbury Heroes Family Bag 278g approx 20 Treatsize bars including Dairy Milk Buttons, Crunchie, Fudge, Flake, Twirl, Chomp. Trick and treaters may also like the Halloween Treats Selection Jar filled to the brim with the most ghostly looking and terrifyingly tasty sweets imaginable! Discover all your retro sweets for trick and treating at A Quarter of and at Funky Hampers.
John Lewis & Partners Halloween Gifts
Who can resist a hair raising selection of delicious sweets, treats and gifts at John Lewis? Everything you need is here to get the party off on a scary note from chewy sweets, gingerbread vampires, witches spell boxes, pumpkin lollies, Halloween coins, jelly brains in a jar, Dracula fangs, foiled eyeballs and liquorice skulls. The Hotel Chocolate Halloween Bites box is a great gift idea too containing oozy eye truffles and gory red and green runny caramel and beastly spider praline bites. Create your own hamper with an empty basket ready to be filled with a variety of Halloween themed chocolates and gifts.
View Halloween Gifts & Hampers
Fortnum & Mason Trick or Treat Hampers
Novelty chocolates and Halloween Hampers are perfect for trick and treat events and Halloween parties. A scary selection of spooky gifts from Fortnum & Mason include pumpkin fruit cakes, Dracula sweets in a jar and a special collection of trick and treat goodies to fill your own hamper basket.
At the Chocolate Trading Co, you will find plenty of Halloween theme chocolates and sweets that can be purchased in different quantities to suit the size of the party, in small gift pack bags of 5, 10 or bulk drums of 60. Suggestions include foil-wrapped high-quality milk chocolate pumpkins, ghosts, spiders and witches. Adding to the scary theme are Halloween chocolate balls are available and come in assorted designs of eyeballs, pumpkins and skulls.
Curated by Debra Binns
Debra Binns is the co-founder of www.uk-hampers.com. Debra has been creating and sharing relevant content about the home, gifts and fashion since 2009, helping customers navigate and select from the vast range of homeware, gifts and fashion available from high street and online stores.