Halloween Hampers Sweets & Chocolate Treats
Halloween Hampers & Party Packs 2022
As fright night creeps slowly upon us add to the occasion with the scariest collection of Halloween gifts and Halloween hampers. Scare up some fun with crammed filled jars of sweets and gruesome trick or treat collections. Organising a Halloween celebration is made easy with special party packs, themed costumes and ghoulish decorations.
---
Fortnum & Mason Hampers & Halloween Gifts

You can find Halloween hamper gifts online at stores such as  John Lewis & Partners, Funky Hampers, Cadbury Gifts Direct, A Quarter Of A Chocolate Trading Company and Fortnum & Mason.

Halloween Hamper Gifts & Spooky Treats
Trick or Treat Chocolate & Retro Sweets
Retro Sweets Box Over 60 Sweets Pick N Mix The Ultimate Sweets Selection Box Sweet Hamper Present - Gift Wrapped & Personalised Message Fathers Day Sweet & Chocolate Gift
amazon.co.uk
Personalised Pick 'N' Mix Smash Chocolate Cake
Prezzy Box
Nature Kitchen Indian Curry Gourmet Spice Seasoning Selection Mix Gift Set Kit. 9X Gluten-Free Herbs and Spices for Cooking Recipes. Including Blends for Vindaloo, Korma, Masalas and More
amazon.co.uk
Party Banners and Halloween Decorations
Create a scary welcome with Halloween banners, garland, wreaths and glitter hanging decorations. Add the finishing touch with pre-lit pumpkin lanterns, flickering tea lights and ghosty LED lighting. Your All Hallow's Eve party is helped along with dressing up costumes, witches' hats, devil masks and fearsome playsuits.
Fortnum & Mason Halloween Hampers
You can expect only the best Halloween collection from Fortnum and Mason. Exclusive witching hour hampers, Halloween sweets, biscuits and chocolates. The Wicked Wicker Halloween themed hamper is brimming with spine-tingling surprises. Contents include ginger biscuits, chocolate salted caramel popcorn, pumpkin praline stick pack and milk chocolate thins.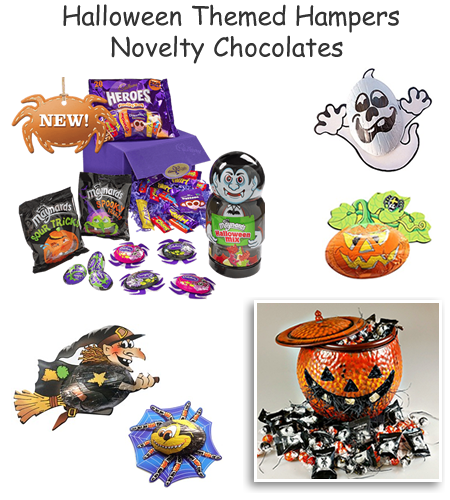 Hampers Filled Full of Creepy Chocolates
A skull decorated lollipop and a jar full of fresh jellied brains finish the frighteningly tasty feast off in style. Perfectly presented in a luxury lidded wicker basket. For trick and treaters, there's skeleton iced biscuits, chocolate bones coffins and tomb truffles. If that's not enough there are jars of mummies and spiders too! It's not just for children, adults too can delight in the frightfully delicious selection of creepy confectionery.
Scary Sharing Sweets
Give your friends a fright with sweets galore from all sorts of jelly-filled brains, red-eyed skulls, bones, spiders and more. A fun and exciting mix of Halloween treats include fizzy vampire teeth, giant rats, fruity frogs, liquorice wands and white mice. Creepy crawly surprises and the most ghoulish of sweets are ideal when the trick and treaters come knocking. Special treats selection is great for parties the big size jar packed to the brim is just made for sharing.