Chocs and Summer Smoothies to Chill
What better way to enjoy the warm days of summer than with delicious chocs to chill selection from Hotel Chocolat. You'll discover award-winning chocolates unique in every way and luxury chocolate hampers for any occasion. Gifting is easy with special fruity boxed selections, vodka liqueurs and chocolates to chill.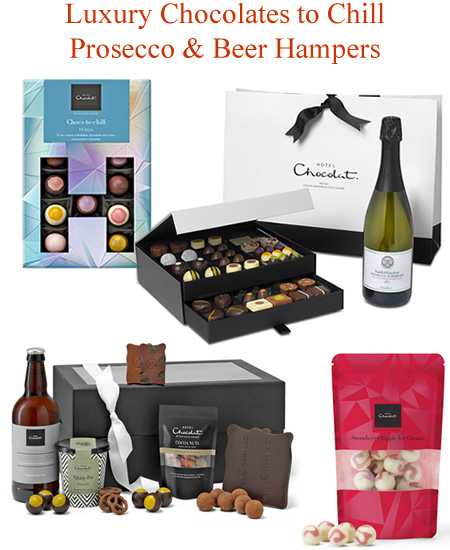 For smoothie fans, there are zesty chocolates with bursts of real fruit whipped into a soft ganache. Flavours come in raspberry, passionfruit, coconut mango, strawberry, blueberry, pineapple and banana. These are delicious at room temperature but even better chilled. New ice cream style treats come in resealable bags and is also perfect for sharing.
Chocolate and Gin Gifts
Beautifully presented and ready to give alcoholic gifts include favourite tipples such as gin, beer and bubbly. So when Father's Day and Mother's Day comes around along with birthdays and Christmas there's something for everyone. Gin lovers can enjoy the best of both with gin flavoured dark chocolate truffles and small batch Cocoa gin.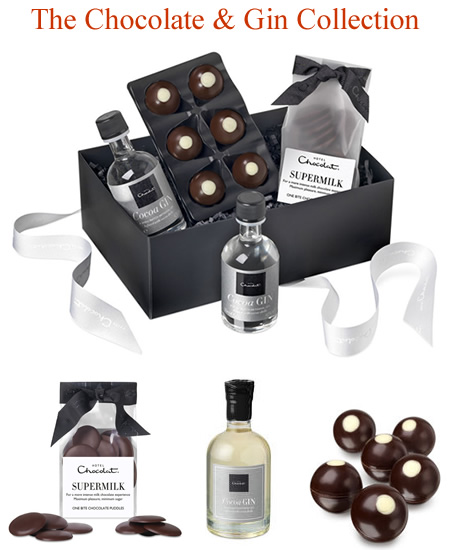 Cocoa Beer Hamper with Snacks
For beer devotees, it's hard to resist the Cocoa beer hamper with snacks. Beer brewed with cocoa pulp and a generous helping of hops delivers a golden beverage that's a sure-fire hit. Especially so combined with such satisfying sweet and savoury nibbles. Contents include Caramelised Californian almonds, Turkish hazelnuts and milk chocolate pretzels. Also dark cocoa beer truffles, cookies and salted caramel nano slab.
Prosecco and Red Wine Hampers
Shop by collection to find a range of wines and spirits specially selected to partner Hotel Chocolat's finest chocolates. For celebrations or get-togethers why not mark the occasion with a handpicked collection of chocs and bubbly. Gift ideas include hand-finished chocolates paired with a bottle of Prosecco, red wine or port. For the ultimate foodie gift, there's the Bliss chocolate and wine hamper full to the brim with milk, white, caramel and dark chocolate treats. From milky hot chocolate, pecan spread to slabs, covered nuts and of course some bubbly to compliment the feast.