Belgian Chocolate & Champagne Gifts
Indulge someone you love this Valentine's Day and shower them with huggable gifts and delicious treats. Who could resist a cuddly bear, a drop of bubbly and some mouthwatering chocolates? Buying a thoughtful gift hamper will keep the romance alive and set the scene for a romantic night with your wife, girlfriend or new love.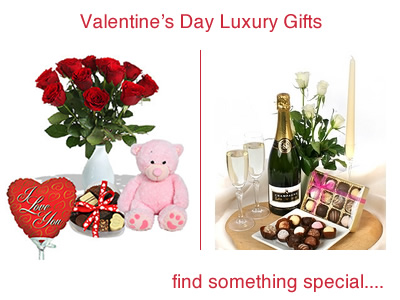 Wow them with exquisite truffles with decadent creamy centres delivered in a beautiful presentation box. Or why not try a sharing hamper for both of you to enjoy filled with the finest Belgian chocolates.
Pamper Gifts & Flowers For Her
Keeping things simple means buying your loved one exactly what they like. Valentine gifts for girls doesn't have to be waist-unfriendly instead brighten up their day with flowers they adore.
you may also like..
Pamper Days are fun too and could mean a fabulous day being pampered top to toe! Whatever way you choose to spoil your loved one you can be sure to receive a warm response.
Special Occasion Hampers
Throughout the year there are other wonderful occasions to show your appreciation and love. You can find Mother's Day, Father's Day, Christmas, Easter and Thank you gift baskets plus champagne and chocolates for her, beer and ale hampers for him. But when it comes to lovers young and old there is something special when February 14th arrives.