Design Fill & Send your own Personal Hamper
There something extra special about making your own hamper and Christmas is the perfect time to try out the seasonal treats on offer. Bespoke hampers can say so much to the recipient and shows how much you care. Hand picked items from biscuits and cookies, sweets and chocolates to savoury foods,beer, lager, champagne and wine can make a pretty impressive gift and DIY hamper. Create your own food and drink hamper for other occasions too such as Valentine's Day, Mother's Day and Father's Day.

Make Your Own Hamper Kits
The first step when making your hamper is to consider how you want to present it. There are plenty of places to buy different sized willow baskets, small, medium and large gift boxes, trays and luxury leather storage cases.
Depending on the size and weight of the products you decide on will ultimately determine the size of the container. Small gift baskets are perfect for teatime treats, biscuits and chocolates whereas adding a little fizz and their favourite tipple will need the next size up.
Virginia Hayward Wicker Baskets Hampers & Trays
Virginia Hayward stock a fine range of ready filled hampers as well as empty baskets. These include traditional lidded willow hampers, trays and wooden framed storage boxes to unusual straw and faux leather baskets. Shredded paper and packaging material is also available.
Best of all they handle bulk orders which is handy if you are planning to treat all your family members with a personalised hamper this Christmas.
Where to buy Hamper Food
You can buy hamper baskets and gift boxes separately and shop for the contents somewhere else. But many hamper people offer an excellent Create your own Hamper service that guide you through the whole process.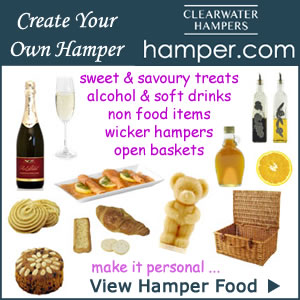 Clear Water Hampers help you make it personal with easy step by step menus and gift categories where you can select the best fillings to suit the occasion. You can choose from a standard postal carton to open basket and wicker hampers.
Build Your Own Hamper at Clearwater Hampers
Hover over the pictures to choose from a selection of alcohol and soft drinks, sweet and savoury biscuits, truffles and chocolates, bread and pasta, coffee and tea, waxed and packaged cheese, salmon, fish and meats, cakes and puddings, nibbles, preserves, sauces, relishes and more! You can also add non food items such as a teddy bear or champagne flute.
Do it Yourself Hamper Gifts
Choosing can be just as fun as receiving as you start to think of the irresistible array of festive food that you will adding. Do it yourself hamper gifts are a great idea especially when you know the person well enough to select their favourite foods and treats.
You can make your DIY hamper a truly indulgent gift filled to the brim and wrapped in a ribbon of love for good measure!
Selection of Hamper Treats & Gifts
Create Your Own Luxury Organic Hamper Gift
Make Your Own Sweet Hamper & Retro Gift Boxes