Organic Hampers & Food Gifts
Chocolate Tasting Organic Hampers
Not always easy to find, but when you do, there will be a hamper bursting with delicious delights and great-tasting food. Choosing organic is a lifestyle choice chosen by people who are environmentally conscious and aware that there are eco-friendly alternatives for a greener way of living. We hope you enjoy our selection of organic hampers.
Organic Hamper Gifts and Chocolate Bars
Buying someone an organic hamper is a thoughtful and precious gift that says so much. In addition to enjoying healthy and additive/pesticide-free food, the recipient will also be helping the environment and farm workers who produce it. Shop Highrove organic produce and luxury food and drink hampers at Fortnum & Mason.
---
Highgrove Organic Food and Drink
---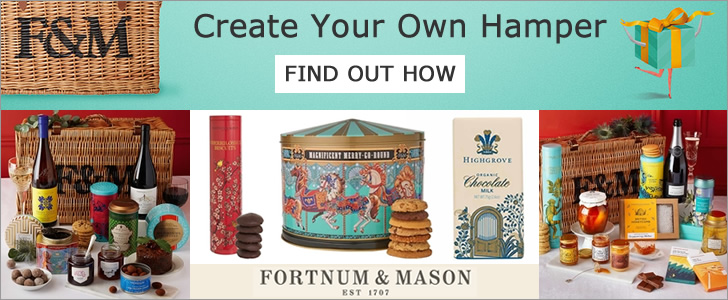 ---
Highgrove Organic Food Hampers
Discover Christmas hamper baskets and unique gift sets filled with a selection of organic food and drink using seasonal produce from the Highgrove gardens and farm. Highgrove is the country home of the Prince and the Duchess of Cornwall and is located in Gloucestershire, near Tetbury. The Duchy of Cornwall owns it.
Duchy Organic Hamper
Duchy Originals was launched back in 1990 by HRH, The Prince of Wales. The Prince believed by working with nature and the environment; high-quality food could be produced using the best ingredients. Named after the Duchy of Cornwall estates, the first product was the oaten biscuit. Since then, the profile of organic food has grown along with Britain's appetite for finer food and drink that tastes good and does good too.
The Duchy Organic Hamper is a luxury wicker basket packed with an array of organic treats and mouthwatering food. Contents include the finest Highland all-butter shortbread, organic orange biscuits coated in dark chocolate, organic Dark chocolate thins, chutney, blackcurrant preserve jam, Seville orange marmalade, stem ginger and organic Old Ruby ales.
Green & Black's Organic Gifts
You'll find a chocolate gift for every occasion, from chocolate bar collections, luxury gifts, organic chocolate hampers and Fairtrade chocolate bars. Beautifully wrapped and displayed in stylish gift boxes, make them special treats for friends, family and loved ones. Combine organic Champagne with organic chocolate for the perfect wow factor gift. The superb intense flavours of the miniature bar collection complement the refined taste of the bubbly. Other organic drink gift sets include British-brewed ciders.
Curated by Debra Binns
Debra Binns is the co-founder of www.uk-hampers.com. Debra has been creating and sharing relevant content about the home, gifts and fashion since 2009, helping customers navigate and select from the vast range of homeware, gifts and fashion available from high street and online stores.