Burns Night – 25 January 2018
Anyone celebrating Burns Night can look forward to adding to the festivities with some truly scrumptious goodies. Whether a treat for your own feast or a heart warming gift for your Scottish friends or family the delightful Robbie Burns Hamper is one to savour. Beautifully presented an open water hyacinth basket that can be kept and put to good use once relieved of its contents. There's something for every one from sweet and savoury to your favourite tipple.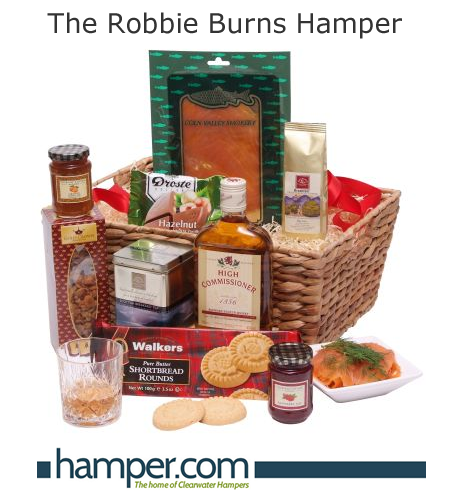 Filled with traditional Scottish food and drink including world renowned Scotch whisky. Food lovers can sit down to supper and sample some great tasting classics as they celebrate the legendary Burns Night. This usually takes place around the poet's birthday, 25 January so there's still time to order a Scottish Burns Night Hamper and other delightful gifts to make it a Burns Night supper to remember.
Scottish Hampers
A classic selection full of the taste of Scotland includes: High Commissioner Whisky 35cl, Droste Extra Large Hazelnut Pastille 50g, Walkers Shortbread Thistle Rounds 100g, Edinburgh Tea & Coffee Scottish Breakfast Tea in a Caddy 125g, Edinburgh Tea & Coffee Company Ground Breakfast Coffee 56g, Sliced Smoked Scottish Salmon 100g, Gold Crown Dundee Cake with Whisky 400g,Thursday Cottage Orange Marmalade 112g, Thursday Cottage Raspberry Jam 112g.