Organic Fairtrade Chocolates & Easter Eggs
When only the best will do Green & Black's organic fairtrade chocolates and Easter eggs tick all the boxes. Would-be chocolate connoisseurs can delight in the delicious tasting chocolate with something for all the family.
Organic Fairtrade Chocolates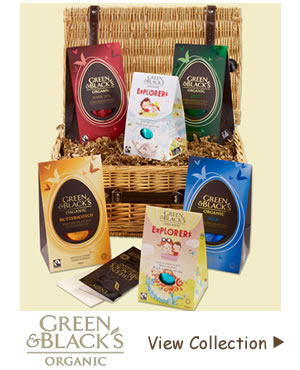 You'll find a range of organic Fairtrade chocolates and dark chocolate thick shelled Easter eggs including 70% dark chocolate, dark mint and butterscotch milk. Easter eggs with a thicker shell make this hamper extra special.
G&B's Essential Easter Basket
Unwrap and indulge with family and friends this Easter. The Essential Hamper has all the ingredients to make everyone happy. Younger children can enjoy fun games and adventures with George and Bella with the organic Explorer's milk chocolate egg. Mum can sit back and enjoy the minty smooth dark chocolate while dad can try out some great tasting butterscotch or a luxury thick shelled Easter egg.
you may also like…
Filled mini Easter eggs - Bulk drum of 184
Chocolate Trading Co
Chick & rabbit Easter eggs - Bulk Box of 68
Chocolate Trading Co
Coloured Easter eggs 6.5cm - Bulk box of 68
Chocolate Trading Co
Bollinger Champagne & Chocolate Truffles
hampers.com
Chocolate Heaven
hampers.com
Prosecco & Chocolates
hampers.com
Presents for Him & Her
Perfectly presented in a wicker hamper with leather handle and fasteners makes this a super gift. You'll find plenty more gift ideas for Easter and other important occasions. Shop by celebration, thank you, birthday and anniversary or by him and her to find the ideal present from G&B's full range