Valentine's Day Gifts
A fabulous selection of Valentine's Day hampers including food, drink, and pamper gifts at Virginia Hayward are sure to please. Choose your favourite from bottles of bubbly to indulgent foodie treats and more. With gift ideas to suit all budgets and the chance to create your own hamper too, there's something for everyone.
Building your own hamper will add a personal touch to mark the occasion. Four simple steps and a choice of over 700 hamper products including wine, champagne, beers, biscuits, gourmet delicacies, cheese, retro sweets, and speciality foods. For that special day on February 14th, there are also pretty pink Valentine's gifts for her and plenty of offerings to impress the boys.
Valentine's Day Gifts & Hampers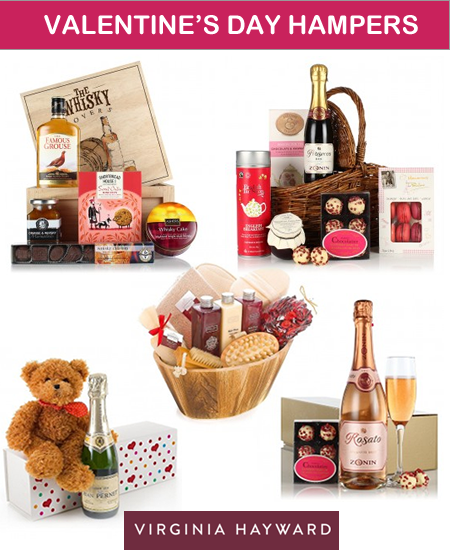 Pink Champagne, Chocolates and Truffles
The Pink Celebration is the perfect match for romantic occasions. Whether it's a wedding anniversary or Valentine's Day the gorgeous duo is a stylish and refined gift. Contents include sparkling Zonin Rosato Spumante Brut and raspberry Marc de Champagne truffles. The classic combination of bubbles and chocolates is just made for sharing with a loved one.
Valentine's Day Gifts and Hampers
Champagne Valentine Gifts
The Champagne and chocolate gift set is another one for the shortlist. Handmade luxury dark, milk and white chocolates from Linden Lady are perfectly partnered with Nicolas Feuilatte Brut Champagne. Other sparkling sensations to choose from make a lovely gift choice. The Lovers Bubbles is a beautifully presented champagne gift in a heart-adorned bottle bag. The irresistible Cuddle and Bubbles comes in a multicoloured heart box complete with half bottle of Grand Cru Champagne and the very dapper Cuddles the Bear.
Pamper Gift Boxes
Ladies' gift sets and pamper hampers contain wonderfully thought-out selections. An array of pampering treats include everything from scented candles, luxury bath-time products, and richly fragrant home spa gifts to gardening gifts like the Burgon & Ball soft green hand tool set. Pampering is not just for girls. The Gentleman's Grooming gift sets offer a vintage-style touch for the discerning gent! Presented in a smart tin with a traditional shaving brush, soap, and a bottle of muscle soak.
Curated by Debra Binns
Debra Binns is the co-founder of www.uk-hampers.com. Debra has been creating and sharing relevant content about the home, gifts and fashion since 2009, helping customers navigate and select from the vast range of homeware, gifts and fashion available from high street and online stores.